PRINCIPAL'S REPORT
Welcome to the 2023 school year and the College's 50th Anniversary.
An especially warm welcome to both new staff, students, and families. It is an extremely exciting time of year where we watch our Year 7s as they begin their secondary school journey. We commenced with our 'Welcome' Assembly introducing the new Year 7 students, along with celebrating the Class of 2022 high achievers and introducing our new Year 12 students. We are very proud of the Senior Student Leadership team who ran their first whole school assembly, committed to aligning the College values of Compassion, Endeavour, Resilience, and Respect in all aspect of college life.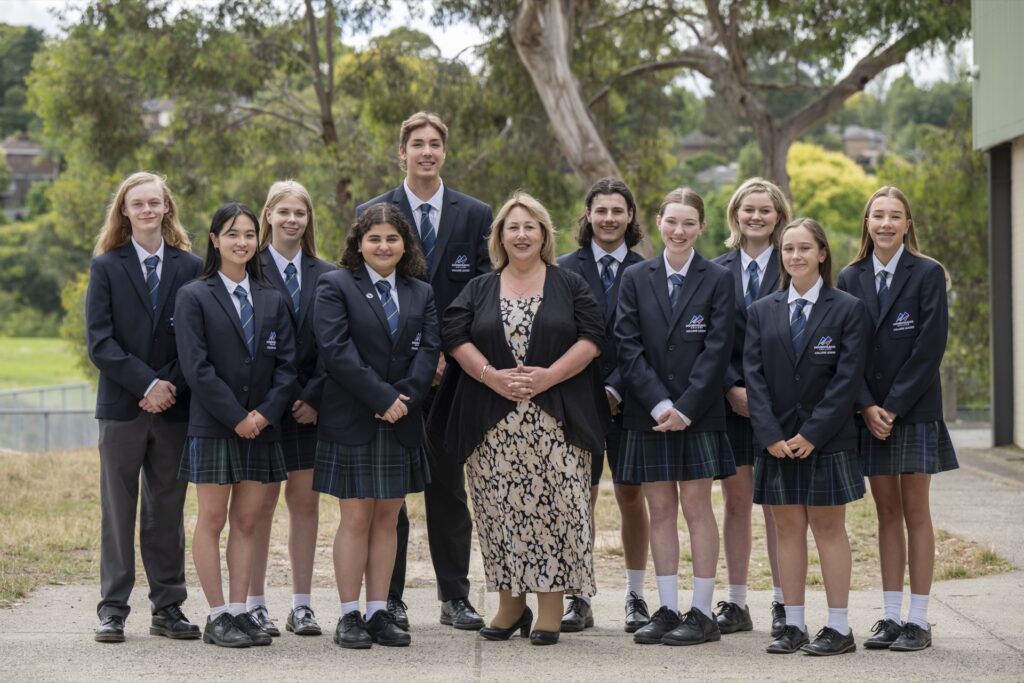 We look forward to working with the Senior School Leadership Team, especially the 2023 College Captains – Ciara Delaney and Carla Hunaidi
I extend a warm welcome to our Mooroolbark College community our new staff. They had a busy start with induction programs, two days of Staff Professional Learning and new teachers' sessions.
Welcome:
David Quinn Jacob Ellum Blake Pearson Paige Carr
Bradley Blair Matthew Sheaves Megan Furphy Tracey Leicester
Nathan Contebardo Kailey Scott Michael Jones Matthew Coghlan
Mikayla Cassidy Katie Nott Tracey Mc McCombe Brodie Challis
Meg Williams Sarah Schoenmaker
Class of 2022
Again, we are extremely proud of the 2022 Year 12 Cohort who achieved excellent results, reflecting on the hard work and effort of both VCE and VCAL.
We congratulate the College Dux, Rhys Thomson
'Ready to Learn' and 'Deep Dive into 2023
On the first day of term we welcomed our Year 12 Class of 2023 and our new Year 7s to the Mooroolbark College Community. This was a fantastic time as it allowed us to get to know our students, and focus on them as a learning community. The 'Ready to Learn' program introduced Year 7 students to the learning culture at the College, setting them up ready to engage in their learning this year. Students were given their House folders, Numeracy and Literacy Journals and shown to their learning space, The Discovery Centre. To support this, the students attended sessions presented by their House Leaders, guided through setting their digital devises up for eLearning, and engaged with external presenters, The Maths Show, Professor Maths and author Geoff Ivanoff. Similarly the Class of 2023 were given the opportunity to take a 'Deep Dive' into the year ahead with presentations to build resilience from Daniel Merza, participating in circus skills and reflecting on pathways opportunities. This was again a huge success with the senior students gaining momentum for the year ahead.
We welcome the rest of the school community back with a whole school assembly where the Year 7 students were made feel very welcome and Mrs Ann Stratford College Principal addressed the community setting them up for a successful academic year. We also sent Mrs Stratford off with well wishes for her long service leave adventures for the remainder of the term.
Rachael Williams
ACTING PRINCIPAL